Images, video, and artwork from the 2004 Transit of Venus are the property of their respective owners.
(Images of the 2006 Transit of Mercury are at mercury-images.htm.)


http://www.vt-2004.org/photos/
Collection of VT-2004 images, including the VT-2004 Photo of the Day; from the European Southern Observatory. Shown is the International Space Station (ISS) transiting the sun concurrently with Venus, and a device for practicing timing the transit.

http://science.nasa.gov/spaceweather/venustransit/gallery_08jun04_page10.htm
Several pages of images from SpaceWeather.com; shown is Venus two minutes after fourth contact.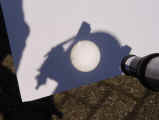 http://www.venusvoordezon.nl/resultaten/fotoalbum.php
Diverse images and video from professional and amateur observers alike; shown are Dutch Open Telescope image and an image projected through a telescope.

http://vt-2004.solarphysics.kva.se/movies/
Swedish 1-m Solar Telescope on La Palma; images and movies include black drop effect and the "elusive aureole outlining the disk of Venus. It is caused by sunlight being refracted towards us in the atmosphere of the planet."

http://www.nasa.gov/multimedia/imagegallery/image_feature_184.html
NASA link to images.


http://vestige.lmsal.com/TRACE/transits/venus_2004/
From the perspective of the TRACE spacecraft, including movies with time codes.

http://nicmosis.as.arizona.edu:8000/ECLIPSE_WEB/TRANSIT_04/TRACE/TOV_TRACE_INGRESS.html
More processed images from TRACE.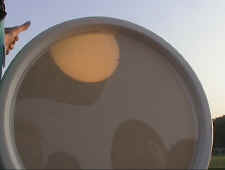 june8.htm
Over 50 images of the transit of Venus as witnessed from and celebrated at Mishawaka, Indiana, USA, under good conditions. "We had successful stargazing the night of June 7; webcasts beginning at midnight (EST); clear skies at sunrise; perhaps 20 quality telescopes and viewing devices; and a crowd of enthusiasts. As third contact approached, so too did a large bank of low clouds. However, the clouds cleared in time to capture that elusive moment." Comments and early images are at june8.htm.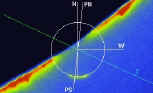 http://astrosurf.com/rondi/venus2004/
Photographs and movies with homemade H-alpha coronograph of Venus straddling the sun's limb; from André Rondi.

http://antwrp.gsfc.nasa.gov/apod/astropix.html
Astronomy Picture of the Day features the transit of Venus.




Eight Transit of Venus (TV) Screens show rear-projected images of Venus from Cleveland, Ohio, USA. Images are courtesy of Gene Zajac (shown), who writes:
"The haze lasted much longer than I expected as the funnel viewers did not work until 6:30. Same for the telescopes. Then it all came together. One teacher from my high school had a particularly great time...Jane stayed the entire time, until 7:15. She came to me later that day, at 4 PM, in the planetarium. I was headed home and she wanted to share a thought.

She started by talking about a trip she was on with her Latin students to Rome a number of years ago. They were in Rome and some students wanted to go to the vesper service. Jane is not Catholic but decided she would take them. As they neared the area she noticed how the crowd kept growing. People grew very quiet and then she discovered the reason for the large crowd. The Pope was doing the service. They were 10 feet away from him. One of her fondest memories was being there and feeling the soft breeze on her back as she savored the moment.

Tears welled in her eyes while stupid me was wondering what the point was. She said, "Today I was on the hill with the gentle breeze blowing on my back. You and Kelly [Jons] had all these people excited about what we were seeing. I felt the same chill I did back in Rome. Thank-you!" We ended with a hug.

Jane added a wonderful memory into my life with her words. I found a picture of her in the pictures Rob Sylak took for me. She is all smile with her hair blowing in the wind."

http://atm.zaciatok.sk/atm/atm.nsf/0/0F3E5E0223691EF4C1256EB50034B66F?OpenDocument
Tomáš Maruška and the Porter team capture the International Space Station transiting the sun from Bratislava. The handiwork of Thomas Fly and others sets up successful images of both the observers and the observed. Nice work, all.

http://soho.nascom.nasa.gov/hotshots/2004_06_08/
Hot Shots for June 8, 2004, features movies of eruptive sun, with Venus passing below the sun from the SOHO spacecraft's perspective. Text notes how the transit of Venus improved the accuracy of SOHO by measuring the stray light coming from the solar disk that usually scatters inside the spacecraft's instrument.


http://www.pa.msu.edu/people/frenchj/transit/
Images from the Abrams Planetarium in East Lansing, Michigan, USA.




An airplane transits the sun concurrently with Venus. Images from Bussum, Holland, are courtesy of Eduard Frankes.



Using 6- inch f/8 refractor and videocamera; images courtesy of Ralf Vandebergh.




The band plays John Philip Sousa's Transit of Venus March and observers witness the transit in Peoria, Illinois, USA. Images courtesy of Sheldon Schafer.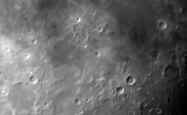 http://web.olivet.edu/~scase/venus_transit.htm
Images from Olivet Nazarene University observatory, including a reminder of the moon preceding the sun; from Steve Case, Student Director of the observatory.



From Lexington, Michigan, USA, a photograph through filtered binoculars shows the transit at sunrise over Lake Huron; images courtesy of Bob Dynes.





A Transit of Venus (TV) Screen shows rear-projected image of Venus from Wheeling, West Virginia, USA. Images courtesy of Steve Mitch.















"This sequence of the III and IV contacts were taken with a 20.3cm SCT and a Logitech QuickCam. The times are local, but add 4 to get UT. The Sun was very near the horizon, so there was a lot of turbulence in the air." Images from Puerto Rico are courtesy of Daniel del Valle.

http://147.205.84.51/hartwick/astronomy/venus.htm
Images from Sara Caldwell, student at Hartwick College in Oneonta, New York, USA.

http://www.hplfoundation.org/astronomy_night_events_transit_of_venus_photos.htm
A crowd observes along the lakefront by the Adler Planetarium in Chicago, Illinois, USA; from Hinsdale Public Library Foundation.
http://dot.astro.uu.nl/DOT_Venus.html
Dutch Open Telescope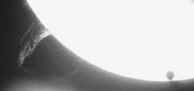 http://www.astrogilde.de/
From Dr. Michael A. Rappengluck M.A. [in German]




Sunrise from Venice, Florida, USA; images courtesy of Betty Bueter.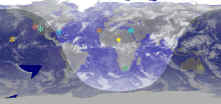 http://nightskylive.net/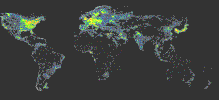 http://www.inquinamentoluminoso.it/download/mondo_ridotto0p25.gif
Some parts of the world missed the transit of Venus simply because of darkness--the sun never got above the horizon during the 6+ hours of transit time. Images from CONCAM project and Light Pollution Science and Technology Institute.

http://iota.jhuapl.edu/venus615.htm
David Dunham's account of his trip to Springs, Pennsylvania, USA; note the cicada on the laptop.

http://fermi.jhuapl.edu/transit2004/index.html
Bob Jensen's images from Montpelier, Vermont, USA.

http://www.astro.uni-bonn.de/~dfischer/mirror/277.html
Daniel Fischer's The Cosmic Mirror links to transit of Venus image galleries, press releases, individual reports and media coverage. Image shown by David Cortner.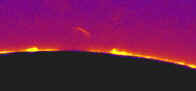 http://astrosurf.com/rondi/venus2004/
Sequence of images by Andre Rondi shows Venus moving beyond the solar limb.
http://gong.nso.edu/venus2004/
Overlay of the path of Venus as seen from multiple sites; from the Global Oscillation Network Group (GONG).
Becky Lowder, Assistant Director of the Georgia Southern Planetarium sends images and writes:
Wow, what an exciting event to experience!
In Statesboro, GA, our original observing site at Mill Creek Park was socked in thick with fog. After waiting to see the sun for about 25 min, with no luck of the fog burning off, we decided to head into town to the K-Mart parking lot. Our long caravan arrived to find the bright sunlight waiting for us! We scrambled quickly and set up my 6 in Dob with a glass 2+ solar filter and Georgia Southern's Coronado SolarMax 60!!
WOW, it was so moving and thrilling to see Venus suspended in space between us and the sun! Everyone could see it with their transit shades, and enjoyed the views through the telescopes too! We did indeed see the black drop effect and I managed to catch it on film!
We were very fortunate with the weather, and all our other friends scattered around at Tybee Island, GA, Cape Hatteras, NC, and Amelia Island, FL, were also very fortunate with the weather to enjoy the transit!

http://home.comcast.net/~james.edward.smith/venus/
James Smith shares his images from Ann Arbor, Michigan, USA.

http://www.ocmboces.org/iss/mstsite/Graphics1/transitposter.jpg
A poster from OCM BOCES shows a collage of images from Syracuse, New York, USA; courtesy of Susan Button.
www.astronomycafe.net
A diary of the journey to webcast the transit of Venus from Greece; includes cultural experiences, the day of the transit itself, plus a post-mortem; from Sten Odenwald.
















John and Linda Hare share their experience at the Royal Observatory in Greenwich, England. Images courtesy of John and Linda Hare.

http://members.rogers.com/science_sdc/science_photos/slides/transit_venus_chart.html
Series of photographs from Ontario, Canada; courtesy Shawn Connelly.

http://w1.217.telia.com/~u21702585/venus.htm
Images of Venus preceding June 8th culminate with transit of Venus images; courtesy H.G. Lindberg.

http://www.physics.nd.edu/venus%20at%20phm/index.htm
Students and staff from the University of Notre Dame Physics Department observe the transit of Venus in Mishawaka, IN.

Craig Lent dodged sprinklers to capture this sequence from Niles, MI.

http://www.muncie.k12.in.us/planetweb/transit_of_venus_activities.htm
Muncie, Indiana, celebrates the transit with music, planetarium program, and observing opportunity.

http://venustransit.pghfree.net
Photographs from Pittsburgh include a projection onto a white card (not shown).

http://www.astronomy.no/summary.html
Results and reflections from one of the most active observing sites--Frognerparken in Oslo, Norway.

http://www.astropix.com/HTML/G_SUN/VTRANSIT/HTM
Astrophotographer Jerry Lodriguss applies color-coded gradient map and other techniques to his images.

http://www.poughkeepsiejournal.com/apps/pbcs.dll/article?AID=/20050706/LIFE/507060316/1005/NEWS
Kathy McLaughlin, winner in Women in Photojournalism contest, includes transit of Venus picture among her select photos.

http://www2.eng.cam.ac.uk/~hemh/transit.htm
Hugh Hunt uses a modified "pinhole camera" to project an image of Venus into a darkened room at Trinity College Cambridge.


Observers affiliated with the Orwell Park Observatory (U.K.) sketch and photograph the transit and analyze their timings.

http://www.islandastro.com/transit-sm.JPG
Sunrise collage by Bill Townsend for Island Astronomy in Maine.

http://www.youtube.com/results?search_query=transit+of+Venus&search=Search
A search of YouTube (which did not exist during the 2004 transit of Venus) offers much video content on a diverse range of transit of Venus topics.
---
Google's Zeitgeist feature rated the Transit of Venus as the
#1 Most Popular Event of June 2004.