Quotes.htm
A collection of quotes pertaining to transits in general and the transit of Venus in particular.

paris.htm
A domed ceiling in the Paris Observatory is magnificently painted in recognition of the transit of Venus; images courtesy of Debra Lazar.
http://image.gsfc.nasa.gov/poetry/venus/News/News.html
"Anecdotes and surprising sub-stories" appearing in old newspaper accounts that have been extracted from the ProQuest Historical Newspaper Service; from the NASA IMAGE mission's education and public outreach program (POETRY).

http://venustransit.free.fr/
Simulation of Venus crossing the sun in real time (1x) and speeded up (10x and 100x); in Flash.

http://ennui.shatters.net/gallery/view_album.php?set_albumName=Calculus
A gallery of unique celestial phenomena including transits, occultations, and events as seen from throughout the solar system.

http://nicmosis.as.arizona.edu:8000/ECLIPSE_WEB/TRANSIT_04/TRANSIT_2004.html
Transit of Venus animations as seen from different perspectives, such as from the moon or from the TRACE spacecraft; from Glenn Schneider, Steward Observatory, University of Arizona.

http://antwrp.gsfc.nasa.gov/apod/ap030509.html
Astronomy Picture of the Day shows the International Space Station (ISS) transiting the moon; images by Tom Laskowski.

science.nasa.gov/spaceweather/swpod2003/22aug03/Stalder1.avi
Roland Stalder photographed this video of the International Space Station transiting the sun; posted on spaceweather.com. Stalder knew of the approaching daytime event by using Thomas Fly's email transit-alert service (below).

http://iss-transit.sourceforge.net/
Thomas Fly offers a way for observers to predict when the International Space Station (ISS) will pass in front of the sun or moon from their respective observing sites. The Transit Alert service will ideally send notices of predicted transits of the ISS..

http://iss-transit.sourceforge.net/IssVenusTransit.html
Trying to predict where the International Space Station (ISS) will be during the transit of Venus, and the possibility of seeing ISS transit the sun concurrently with Venus; from Thomas Fly.

http://sio.midco.net/dansmapstamps/jamescook.htm
Collection of stamps pertaining to Captain James Cook, including some specific to the 1769 transit of Venus.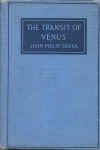 http://indians.syr.edu/mfrantz/wgpark/page.asp?pid=10
John Philip Sousa, the famous bandmaster, wrote a 1920 novel Transit of Venus about an imaginary voyage to photograph the event.

http://www.dws.org/sousa/mid/transit.mid
John Philip Sousa wrote a march entitled Transit of Venus; (MIDI file). He originally composed it for the unveiling ceremony of the statue of Joseph Henry, the first Secretary of the Smithsonian Institution. The ceremony had been planned to occur before the 1882 transit, but didn't actually happen until April 19, 1883. Henry, whose statue is now in front of the Smithsonian "Castle" in Washington, D.C., was on the U.S. Transit of Venus Commission. (Image from Sun-Earth Connection Education Forum Venus Transit Background Reading- Music and Literature at http://sunearth.gsfc.nasa.gov/sunearthday/2004/vtbackmusic.htm.

Note: The Bovaco Catalog carries John Philip Sousa's Transit of Venus March band arrangement. The march costs $25.00 (plus UPS shipping) for a reprint of each published part on 8.5 x 11-inch pages. You may reproduce as many copies for your own use as necessary. You may call them at (480) 948-9870 or write them at The Detroit Concert Band, Inc.,
7443 East Butherus, Suite 100, Scottsdale, AZ 85260.
sousa.htm
On our John Philip Sousa page, an article in the Washington Post (October 31, 2003) notes the re-orchestrating of Sousa's Transit of Venus March by Loras Schissel and the Virginia Grand Military Band.

http://skyandtelescope.com/news/article_1204_1.asp
The spacecraft Opportunity captures images of the transit of the Martian moon Deimos across the face of the sun; from Sky & Telescope.


http://www.sciencemuseum.org.uk/on-line/eclipse/exhibition/seven.asp
Antiques instrument that models the transit of Venus.


http://www.clements.umich.edu/dup/indx15.html
Item sold: "A View of 17 Transits of the Planet Venus over the Face of the Sun, (viz. from the Year 918 to 2117 inclusive)...( [London], 1750s ? ). 21 x 18.5 ins."


http://www.gemmary.com/instcat/02/p19-055-02.html
Item for sale: 19th century Magic Lantern that illustrates transit of Venus.


http://www.art-network.co.uk/banca/stern/transitofv.html
Bronze sculpture by Deborah Stern entitled "Transit of Venus."

http://www.jacquesdeshaies.com/ecrits/venus/venuseng.html
Transit to Venus artwork by Deshaies addresses biotechnology ethics.
http://www.curtainup.com/b-venus.html
Review of the 1992 play Transit of Venus written by Maureen Hunter.

http://members.shaw.ca/theatretart/tofv.html
Theatre scenes from 2003 presentation of Maureen Hunter's play in Vancouver.
http://www.jazzweekly.com/reviews/fkoglmann_venus.htm
Review of Franz Koklmann's Venus in Transit soundtrack.
http://www.abc.net.au/classic/lroom/stories/s386919.htm
Radiophonic program entitled The Transit of Venus by Nigel Helyer and Simo Alitalo; Australian Broadcasting Corporation, July 1999.

http://www.kiasma.fi/arkisto/transitofvenus/kiasma.html
A "proposed series of International exhibitions, broadcasts and Interactive works...based upon a collaborative research, development and production process."


http://www.strictlystores.com/storesites/thevanityfairprintcompany1/online_store/pages/0000000131.html
1908 Vanity Fair Print regarding the transit of Venus: "The Earl of Crawford."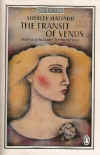 http://www.middlemiss.org/lit/authors/hazzards/transitvenus.html
The Transit of Venus; novel by Shirley Hazzard.

Novel:
Transit of Venus: Travels in the Pacific; novel by Julian Evans.
http://www.aan.org/gbase/Aan/newsByMember?oid=oid%3A70&startIndex=4
Legal threat by local Fox affiliate stops Philadelphia City Paper from publishing Transit of Venus serialized novel.
http://www.toinspire.com/quotes.asp?catid=14
Quote: "Only those who risk going too far can possibly find out how far they can go." Written by T.S. Eliot, appearing in Transit of Venus by Harry Crosby (see entry below). Then again, there was Icarus.
http://www.banger.com/banger/crosby/cros11.html
Poem entitled "Ritual" in a book of poems by Harry Crosby, Transit of Venus; Black Sun Press, Paris,1931.

statue.jpg
Marble statue of Venus, likely a 4th Century reproduction of the original Aphrodite of Knidos .

statue_print.jpg
Photogravure plate entitled "The Transit of Venus," circa 1888; artist unknown; printed by the Typographic Etching Company.
http://www.intermed.it/bradbury/Allsummer.htm
Excerpt from Ray Bradbury's All Summer in a Day, in which a girl on Venus is prevented from seeing the sun's appearance, which occurs only once every seven years and lasts only a couple of hours.

http://es.rice.edu/ES/humsoc/Galileo/Things/g_sunspots.html
Animation of Galileo's sunspot observations; from the Galileo Project at Rice University.

Copernicus outside Adler Planetarium Chicago, Illinois.

Milton meets Galileo; from Illustrated London News.
http://www.19thcenturyshop.com/cgi-bin/VisitorTools/FullRecord?WebID=1869
Auction item: Letter/pass from General Thomas Gage for two mathematicians who are to go "from Boston to Lake Superior to observe the transit of Venus."



Auction item: Victorian trade card advertising Keystone Handy Tablets for Tourists, Nathaniel W. Appleton, Stationer, 7 School St., Boston; illustration is titled "THE TRANSIT OF VENUS".


Auction item: Original postcard by Cynicus entitled "The Transit Of Venus;" two policemen carry a woman.

http://www.tuvaluislands.com/stamps/st-c1979.htm
Tuvalu commemorative stamp from 1979 includes depiction of Captain Cook and the 1769 transit of Venus.

http://www.newzeal.com/theme/cook/cook.htm
New Zealand stamp from 1969 Cook Voyages Bicentenary sheet features the transit of Venus.


Auction item: "Transit of Venus...tableau is adapted from a print by C.T. Garland for the Christmas edition of The Graphic in 1844...painted by C.B.G. Mignot."


Auction item: "The Transit of Venus by C. T. Garland, originally published in The Graphic Christmas in 1884."

alabama.jpg
Auction item: Stereoscope card published by American Views purportedly of "the cabin of a wrecked crew of the Alabama, Chatham Island expedition."

stereocard.jpg
Auction item: Stereoscope card of the transit of Venus expedition to Chatham Island; from the American Views "Popular Series."

sign1.jpg
Transit sign in Montreal.

sign2.jpg

coin-cook.jpg
Auction Item: "Obverse: Captain Cook Festival, (bust of Captain Cook), James Cook, 1728 - 1779, English, 1969, Kona, Hawaii. Reverse: Cook's First Pacific Voyage, 200th Anniversary, (fort, palm trees), 1769, Fort Venus, Tahiti, Midpoint of Cook's 1768 - '71 Expedition, Here The Transit Of Venus Was Observed."

http://www.goines.net/Writing/venus.html
Inferential Evidence for the Pre-Telescopic Sighting of the Crescent Venus suggests the crescent figure adorning goddesses of the ancients is not a crescent moon but is a crescent Venus; from David Lance Goines.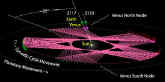 http://www.lunarplanner.com/HCpages/Venus.html
Cycles of the Heart: The Venus Passage by Nick Anthony Fiorenza. [Note: While I normally do not include or advocate websites that cite the "psychophysiology of Venus," I include this website for its graphics and animations. --CB]
http://www-sll.stanford.edu/projects/tomprof/newtomprof/postings/68.html (link not active)
The editors of Astronomy magazine (October 1999) list the 25 greatest astronomical findings of all time, including the suggestion that Venus has an atmosphere, as observed during the 1761 transit of Venus.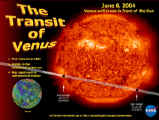 http://sunearth.gsfc.nasa.gov/sunearthday/2004/vt_bookmark_ban_wall.htm
Download posters, wallpaper, and bookmarks; from NASA.

http://www.transit-of-venus.org.uk/downloads.htm
Download poster and wallpaper; from University of Central Lancashire.

http://www.sciencefriday.com/pages/2004/Mar/hour1_030504.html
A "Science Friday" episode of Talk of the Nation on National Public Radio (NPR) features a discussion about the transit of Venus; with guest astronomer Bob Berman.

http://w1.217.telia.com/~u21702585/venus.htm
Watch Venus segue through her phases. A series of photographs features the planet as the transit of Venus nears.

http://www.mediatracks.com/orderMAIN.html
05-09 broadcast of interviews of Sten Odenwald and Chuck Bueter addresses the transit of Venus; from Media Tracks Communication. [Note: In opening comments, Bueter should have clarified that the Earth and Venus align with the sun nearly every eight years, and that the Earth-Venus conjunction shifts nearly every eight years.]
http://www.norristownpreservationsociety.org/
A lecture and a reenactment of David Rittenhouse observing the transit, from the Norristown Preservation Society and the Delaware Valley Amateur Astronomers (DVAA), appropriately sponsored by the American Philosophical Society.

http://s87767106.onlinehome.us/art/TransitOfVenus.jpg
Oil painting metaphorically depicts "Venus transiting the Sun (which doubles for a halo around an angelic/Luciferian Venus). The embodiment of Venus is sweeping her shield across the sword of war, as she flies over the 'Field of Mars', breaking the sword's blade and sending debris out over the city--the debris turning into flowers and peace." Courtesy of Stephen Marc Fox.

http://abclocal.go.com/wls/news/collectioncorner/083104_cc_birdhouses.html
News story: "Painter James Mesplé paid tribute to the recent Transit of Venus across the sun with his birdhouse made of antique barn wood and decorated with paintings and ceramic figures of Venus."

Birdhouse was an auction item to benefit the Clarke House Museum, Chicago's oldest house.

crosby.jpg
Harry Crosby publishes his poetry in Transit of Venus from Black Sun Press in 1929. Included is the poem "First Meeting", courtesy of John Breckenridge.
First Meeting
("lorsque Vénus est tout entière entrée dans le disque")

When you are the flower
I am the shadow cast by the flower
When I am the fire
You are the mirror reflecting the fire
And when Venus has entered the disk of the Sun
Then you are that Venus and I am the Sun.


http://www.mishawakabrewingcompany.com/SpecialEvents.html
The Mishawaka Brewing Company has crafted Transit of Venus Sunrise Ale to commemorate the transit of Venus. "Brewed using four malts and only one hop variety (Centennial) Transit of Venus Sunrise Ale is brewed in the style of an India Pale Ale. It contains only malted barley, hops, water and yeast. The tasty brew (6.1% alcohol) is available both on tap and individually bottled with 8 different labels that celebrate the event.


bronze_medal.JPG and bronze_medal_back.JPG
A bronze medal by A. Dubois commemorates the 1882 transit of Venus. In legend : QVO ° DISTENT ° SPATIO ° SIDERA ° IVNCTA ° DOCENT. Inscription in five lines : INSTITUT DE FRANCE / ACADEMIE DES SCIENCES / PASSAGE DE VENUS / SUR LE SOLEIL / 6 DECEMBRE 1882. Images courtesy of Art Medals.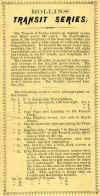 stereocard6_pix.jpg (above) and stereocard6_text.jpg (left)
Rollins' Transit Series of stereocards features images from Kerguelen Island in 1874. The text notes, "Ship, English vessel, one mile in Royal Sound...There were 73 days of snow and rain during the 84 days the party remained there, and the mercury ranged from 8 degrees to 23 degrees below zero."

stereocard-camp.jpg
American Views, Popular Series, Transit of Venus Expedition, Chatham Island, No. 10128, titled: "The Camp, Wangaroa Bay."