NASA Explorer Institutes Focus Group—Final Report
Planetariums as Conduits to NASA's Target Audiences


"Stellar Strategies to Understand the Universe"

Informal Education Representative: Robert Bonadurer NASA Representative: Rob LaSalvia
President-Elect, Great Lakes Planetarium Association Educational Programs Office
250 Marquette Ave, #400 NASA Glenn Research Center
Minneapolis , MN 55401 Cleveland , OH 44135
612.630.6151 rjbonadurer@mplib.org 216.433.8981 Robert.F.LaSalvia@nasa.gov

Dates and Place: January 27-28, 2005; NASA Glenn Research Center in Cleveland, OH

Focus Group Participants: 24 Planetarians from planetariums from across the nation.




12 NASA Educators from various centers.

Key Goals & Objectives: To generate strategies on how NASA and planetariums can help each other achieve their respective goals to increase understanding of and interest in earth & space science, and technology.

NASA Focus: To explore further the Planetarium's unique and wide reaching audience, their resources and practices, and how NASA can more effectively reach its core audience via planetariums.

Best practice: In hiring a professional facilitator (Liz Monroe-Cook) not affiliated with NASA or planetariums and in utilizing a facilitator (Jim Sweitzer) with a working history with both NASA and the planetarium community, the project team achieved a balance between content and process that was integral to the success of this Focus Group. The process facilitator brought neutrality and group tools; the content facilitator helped shape critical decisions about participants, group assignments, areas of overlap, and differences between the ideas generated and credibility for the process.

Lessons Learned: 1) NASA and the planetarium community each have much to learn about what the other offers and of the constraints in which each operates. Eagerness to do so was evidenced both in the formal and informal dialog of this group. 2) NASA and the planetarium community have existing infrastructures, capabilities, and programs in place that, conjoined, can greatly amplify the impact on our common, targeted audiences. 3) Effective, ongoing communication in a variety of forms and channels between NASA and the planetarium community would significantly advance the goals of both parties and is a recurring requirement for each of the focus group's recommendations.

Accomplishment: The focus group participants identified the strengths and potentials of NASA and of the planetarium community; generated seven strategies by which NASA and the planetarium community could advance their respective missions; and collectively prioritized future joint actions. The top four strategies are:
Jointly draft a

roadmap to develop annual themed programs based on NASA missions, astronomical & space events, or anniversaries.

Establish a liaison or single-point-of-contact method for NASA/Planetarium collaborations;

Combine features of NASA Explorers Schools and Solar System Ambassador Programs into a planetarium-specific program;

Engage formal educators for the development and implementation of pre- and post-visit materials.
Unanticipated outcome: So many noteworthy ideas were generated within subgroups that the merits of each could not be fully conveyed to the larger group in such a short time. Many of the notions raised in brainstorming sessions are smaller actions, yet these valuable ideas would yield favorable results with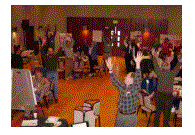 minimal (if any) investment. We encourage NASA reviewers to peruse the suggestions that were not developed fully.

Website: For a list of the focus group managing team, all participants, all strategy details, and all ideas generated, please see our website at http://www.transitofvenus.org/focus.htm.

Picture: After reviewing and evaluating strategies from the four sub-groups, all members of the focus group rated the final ideas, expressing their respective votes kinesthetically! The voting scale, from great to poor, is:


4=standing with arms up; 3=standing; 2=sitting chair; 1=sitting floor.

II. Report Narrative

1. Information Results

Needs of the informal education community and design solutions/best practices that can be used to address them:

The needs of planetarians are the same as the top four strategies developed by the Planetarium/NASA focus group. These are to:

· Define and prioritize jointly the common themes—e.g., celestial events, anniversaries, and NASA missions--around which educational programs will be developed. The focus group recommends NASA and the planetarium community jointly draft a Roadmap to plan such programs 5 to 10 years in advance.

· Establish points of contact or liaisons for collaborations with NASA and Planetariums for any strategy or program developed.

· Combine features of the Explorers Schools and the Solar System Ambassador programs into one joint NASA/Planetarium educational program.

· Extend the planetarium visitor's experience beyond the dome and into informal education by working with formal educators and NASA to develop and implement pre- and post-planetarium visit materials and programs.

In addition, three additional strategies were developed. (These were not as highly ranked as the other four.)

· Offer training to Planetarium educators in how to take full advantage of NASA resources.

· Develop an on-line communications plan with NASA to help serve Planetariums.

· Create an internship and/or exchange program to help support Planetariums.

Relevant NASA assets and effective mechanisms to access/leveraged the resources:

NASA's vast array of existing educational programs, its experienced educational personnel, knowledgeable scientists, visual resources, and overall widespread expertise can be utilized to co-develop any preferred strategy. A concern will be finding the right and best source of needed material or personnel. NASA's experience in strategizing and developing educational programs can also lend a huge amount of support. These models do not exist in the Planetarium community.

Mechanisms needed to engage the informal education community with NASA science and technology staff and resources:

A strong starting point would be to have more attendance at one another's meetings and conferences. Also, the cross-seeding of personnel into each other's profession through an exchange program would be beneficial. In addition, it would also be valuable to include planetarians in professional development opportunities and training sessions on current research and materials.

Instructional materials needed that reflect NASA research and scientific activities and meet the needs of the informal education community:

A need was identified for pre- and post- planetarium visit materials. While alignment of any educational program or set of materials with a single set of national educational standards is valuable and more efficient, planetarians often have to present programs commensurate to their state or local standards. This points to the critical need for balance between overall standards and overall program flexibility. Since planetariums and NASA serve all grade levels, all standards must be considered. Planetarium shows and educator guides are two delivery mechanisms that can be co-produced.

Recommendations that will help NASA broaden the diversity of organizations that it might partner with in the future:

This was a difficult task for the focus group. The planetarians are not generally charged with providing new partners for NASA, focusing instead on establishing and nurturing their own partnerships with NASA. However, planetarians may act as conduits for some informal education partners that they already serve, such as home schoolers and scout groups. The true strength of a planetarium collaboration is that they have a large and diverse number of facilities with highly qualified and trained experts across the country that can serve as a direct link to the public. A direct partnership with NASA will help broaden the size and scope of NASA's key messages, research, and content.

Professional development opportunities that should be provided to members of the informal education community at NASA facilities:

Planetarium educators can serve as part of a development team for a specific educational project. Furthermore, for bigger educational projects, they can serve longer through an internship program. Attending NASA educational conferences or planning sessions can also benefit the Planetarium community. Opportunities for specific training in technology, content standards, and with scientists can be explored.

Evaluation strategies and mechanisms that could be used to measure the effectiveness of the NEI Program:

Establish surveys of planetarians; surveys of audiences for joint NASA/planetarium programs; and collect audience usage data from planetariums, etc. Evaluations must not only look at content and understanding, but also various attitudes toward STEM (science, technology, engineering and math) in general. Also evaluating career goals should be asked.

2. Describe How Your Focus Group Addressed the Goal of the NEI Program

Identify the components of the NEI Program goal, listed below, that have been, or will be accomplished as result of your NEI focus group. Describe how.

Achieving the goals of the NEI Program through this focus group will be accomplished only if the recommended strategies are implemented in earnest. Because the planetarium community seeks to collaborate more directly with NASA, the NEI goals should inherently be accomplished. For example, if NASA supports the planetarium-equivalent of an Explorer School, then a new program modeled on an existing NEI program would have the elements of NEI goals.

3. Where Do We Go from Here?

Based on your NEI Focus Group experience, what additional input can you provide that relates to the NEI Program in general and the following topics:

Developing a wish list (blue sky):

All ideas generated by the group can be found at http://www.transitofvenus.org/focusgroup/post-focus.htm Many of these ideas were collected and honed into one of the seven strategies developed by the groups. A short list of wishes that are not mentioned specifically in the seven strategies include:

· More communication opportunities, such as teleconferences;

· More connection to Space Grant

· Interaction with mission personnel

· Specific NASA workshops

· More cable companies carry NASA TV

· NASA host an annual planetarium conference

Determining short and long term objectives for the program:

The NEI Program and the planetarium community are fortunate in that their respective objectives are closely aligned. Unlike many informal education venues (such as libraries, parks, and scouts) which can incorporate aspects of NASA's mission into their respective roles, the planetarium's primary business dovetails in whole with the NEI objectives. The promotion of astronomy education is not merely an activity at the planetarium—it is the lifeblood and the passion of the planetarian. Broad, new objectives do not have to be invented to fit the joint missions of NASA and planetariums.

In the early stages of implementing the strategies, extant objectives have to be reviewed and recognized by all participants, adapted to fit the language and calendars of the collaborators, and modified to meet the respective state standards. The early planners must ensure that all initial communications convey benefits and behavioral outcomes for the planned program. Expectations must be realistic, and objectives must be defined in measurable terms for the evaluation process.

Establishing collaborations/partnerships:

The NEI Program and the planetarium community should establish respective points of contact to begin addressing the strategies generated from this focus group. The NEI can designate a few NASA persons who may have expertise in and are interested in developing, for example, the long term Roadmap strategy. The planetarium community can put out a similar call to its members. This small group can begin to formulate the Roadmap through teleconferences, emails, or meetings, after which their conclusions would be presented to the larger planetarium/NASA communities for input and revision. A similar process could begin with the other strategies. Understanding how NASA has worked with other communities will be an important first step.

Facilitating coordination among various communities including NASA:

Professional meetings and conferences are already occurring that can be expanded or leveraged for needed coordination. Each of the seven regional planetarium associations meets annually—sometimes in combined conferences—at which the work of implementing the strategies can be furthered. NASA representatives typically attend the regional conferences, but they might not be coordinated by any NASA NEI program. Special sessions, workshops, and discussion opportunities can be part of the formal agenda as well as part of the informal networking.

Sustaining relationships:

Sustaining relationships cannot be left to chance. Consistency, attention, and support are required because relationships are inherently organic. Successful relationships flower & die and need to be re-seeded, nurtured, etc. The best relationships may be driven by common purpose for a project, such as the implementation of a strategy identified by this focus group. Once the NEI and the planetarium community agree to pursue one of the strategies, the executive committee(s) of the regional association(s) taking a leading role should formally recognize the partnership with parties identified by NASA to carry out the strategy to completion.

Identifying roadblocks/barriers:

Identifying roadblocks are crucial. The team must ensure a balance between self-interest and collaboration, for both NASA and planetariums. We may have similar objectives, but we also have our differing constraints and agendas. It is vital to identify the power and goals of the group to move past any potential roadblock or barrier. Otherwise it will get bogged down waiting for another group's actions or approval. In summary, an ongoing dialogue that identifies mutual goals and interests would help to reduce roadblocks.

Evaluating program impact – short and long term:

Evaluation of the program impact—short term and long term—must be both quantitative and qualitative. All programs developed must identify specific outcomes before deciding how to measure. Otherwise, the solutions are selected on the basis of being easy to measure. NASA may have to take a lead in providing professional evaluation support, for many planetarians of small- and mid-sized facilities are not trained in the nuances of formative and summative evaluation.

Developing follow-up strategies:

Developing follow-up strategies is an obvious opportunity for further inclusion and collaboration. These will become more apparent after pilot programs are tested and evaluated. As part of their role, the organizers of the respective collaborations would identify ongoing strategies and resources required to support the program.

Identifying required resources to support all aspects of the program:

Identifying resources to support implementation of the strategies recommended by this focus group needs to occur on an ongoing basis—when the program is conceived, planned, implemented, and evaluated..

Required resources are consistent communication with pre-established points of contact, professional development, and an ongoing dialogue to develop and evaluate mutual goals.

Establishing realistic expectations:

Ensure that all initial communications convey benefits and behavioral outcomes for the planned program.

III. Additional Information

Provide a list of all the experts who were assembled to participate in your NEI Focus Group:

Beth Amsbary, Willard W. Smith Planetarium Pacific Science Center


200 Second Avenue North Seattle, WA 98109-4895
206.443-3648 beth_amsbary@pacsci.org

Jeanne Bishop, Westlake Schools Planetarium


24525 Hilliard Road, Westlake, OH 44145


440.871.5293 jeanbishop@aol.com

Bob Bonadurer, President–Elect, GLPA


250 Marquette Ave, #400 Minneapolis , MN 55401


612.630.6151 rjbonadurer@mplib.org

Johndarr Bradshaw Aerospace Outreach- SEMAA Program
Paragon Tech, Cleveland OH


216-361-5555 jbradshaw@paragon-tec.com

Dayle Brown, Pegasus Productions
849 Trail Ridge East, Mishawaka, IN 46544
574.258-5646 dayledavid@sbcglobal.net

Chuck Bueter, IPS Representative, GLPA


15893 Ashville Lane, Granger, IN 46530


574-271-3150 bueter@rad-inc.com

Anita Davis, Education & Outreach Coordinator, NASA Landsat


SSAI, NASA Goddard Space Flight Center, Building 33 G316


301-614-6669 adavis@pop900.gsfc.nasa.gov

David DeFelice, Public Affairs Office, NASA Glenn Research Center


21000 Brookpark Road, Cleveland, OH 44135


216-433-6186 David.M.Defelice@nasa.gov

Rene Elias, Educator Resource Center Coordinator, NASA Glenn Research Center


21000 Brookpark Road, Cleveland, OH 44135


216-433-2017 Renee.L.Elias@grc.nasa.gov

Jon Elvert, Irene W Pennington Planetarium, La. Art & Science Museum
100 South River Road, Baton Rouge, LA 70802
225.344.9478 jelvert@lasm.org

Kay Ferrari, Solar System Ambassadors Program Coordinator


Jet Propulsion Laboratory, 4800 Oak Grove Drive, MS 311-100, Pasadena, CA 91109-8099


818.354-7581 Kay.A.Ferrari@jpl.nasa.gov

Debbie Gallaway, Manager, NASA Explorer Institutes
Office of the Chief Education Officer, NASA Headquarters


300 E Street, SW, Washington, DC 20546-0001


202-358-1516 debbie.gallaway@hq.nasa.gov

Carol Galica, Education Technology Specialist, NASA Glenn Research Center


21000 Brookpark Road, Cleveland, OH 44135


216-433-5112 Carol.A.Galica@grc.nasa.gov

Cathy Graves, NASA Explorer School Program Coordinator, NASA Glenn Research Center


21000 Brookpark Road, Cleveland, OH 44135


216-433-6691 Catherine.E.Graves@grc.nasa.gov

Joel Halvorson Educational Technology Fellow


Science Museum of Minnesota, 120 West Kellog, Saint Paul , MN 55102


651.221-2538 halvor@smm.org

Wayne Harris-Wyrick Kirkpatrick Planetarium; Science & Air Space Museum


2100 NE 52nd Street, Oklahoma City, OK 77113


405.602.3705 wizardwayne@juno.com

David Hurd, Planetarium, Edinboro Univ of Pennsylvania


103 Cooper Hall, Edinboro, PA 16444


814.732.2493 dhurd@edinboro.edu

Diane Jeffers, University of Illinois, Department of Aerospace Engineering
Associate Director, Illinois Space Grant Consortium
306 Talbot Lab, 104 S. Wright St., Urbana, IL 61801


217.244-8048 dejeffer@uiuc.edu

Dawn Jenkins, Exploration Systems Mission Directorate Outreach Specialist


NASA Glenn Research Center, 21000 Brookpark Road, Cleveland, OH 44135


216-433-3930 Dawn.E.Jenkins@grc.nasa.gov

Rob Landis, NASA Johnson Space Center


International Liaison Office, Mailcode DO13, Houston, TX 77058


281-483-8233 rob.r.landis@nasa.gov

Rob LaSalvia, Educational Programs Office


NASA Glenn Research Center 21000 Brookpark Road, M.S. 7-4, Cleveland , OH 44135


216.433-8981 Robert.F.LaSalvia@nasa.gov

Becky Lowder
Planetarium, Physics Dept, Georgia Southern University
Box 8031, Herty Drive, Statesboro, GA 30460




912.681-5293 blowder@enia.net

Liz Monroe-Cook, Monroe-Cook & Associates


1111 Westgate Street, Oak Park , IL 60301


708 848-3779 monroecook@comcast.net

Ericka Reinfeld, Harvard-Smithsonian Center for Astrophysics
Science Education Department, MS-71, 60 Garden Street, Cambridge, MA 02138
617-495-5433 ereinfeld@cfa.harvard.edu

Susan Reynolds Button, Quarks to Clusters & IPS President-Elect
8793 Horseshoe Lane, Chittenango, NY 13037
315-687-5371 SButton@ocmboces.org

Gary Sampson, Past President, GLPA


880 Hi-Ridge Avenue, Waukesha, WI 53186


262.784.0341 ges@execpc.com

Patty Seaton, President, Mid-Atlantic Planetarium Society
3408 Medina Lane, Bowie, MD 20715


301-918-9850 pxts13@yahoo.com

Dale Smith, Planetarium, Bowling Green State University
Physics and Astronomy Dept, Bowling Green, OH 43403-0224
419.372-8666 dsmith@newton.bgsu.edu

John Stoke, Space Science Telescope Institute


3700 San Martin Drive, Baltimore, MD 21218


410.338.4394 stoke@stsci.edu

Carolyn Sumners, Burke Baker Planetarium, Houstom Museum of Natural Science


One Herman Circle Drive, Houston, TX 77030


713-639-4632 csumners@hmns.org

James S. Sweitzer, Ph.D. Science Communications Consultants


528 North Ridgeland Ave, Oak Park , IL 60302


708/848-2559 sweitzer@sciencecomms.com

Deb Vannatter, Science Resource Facilitator


Evansville Vanderburgh School Corp, 1 SE Ninth St, Evansville, IN 47708


812-435-8427 davanna@evsc.k12.in.us

Sean Washington, Kingman Museum


175 Limit Street, Battle Creek, MI 49017


269.965-5117 swashington@kingmanmuseum.org

Dan Winings, Rock Creek Park Nature Center/Planetarium
5200 Glover Road NW, Washington, DC 20015
202-895-6224 dan_winings@nps.gov

Gene Zajac, Planetarium Director


Shaker Heights High School, 15911 Aldersyde Rd, Shaker Heights, OH 44129
216-295-4251 zajac_g@shaker-heights.k12.oh.us

Include your final NEI Focus Group agenda:

Wednesday, January 26

2:30 -- Depart Hilton Garden Inn for the Rock and Roll Hall of Fame and Museum

3:00 -- Meet in lobby of Rock and Roll Hall of Fame and Museum

3:30 -- Tour Rock Hall on our own, then meet with President and CEO Terry Stewart

Thursday, January 27

7:45 -- Depart Hilton Garden Inn for short ride to NASA Glenn—Meet in Hotel Lobby

8:00 – Badging and check in

8:30 -- Continental breakfast at the NASA Glenn Research Center near the meeting room. Set up any posters.

9:00 -- Welcome and Introductions

9:30-10:15 -- Icebreaker activity

10:15 – 10:30 – Break

10:30 – 12:00: Sharing data via the lessons the participants have prepared ahead of time.

12:00 -- 1:00: Lunch, with inter-group mixing.

1:00 -- 5:00: Break into four groups and start the idea generation for assigned challenges

5:00--6:30: Break for the day

6:30 -- Bus leaves for restaurant

9:00 -- Finished for the day, participants on their own. Optional dessert at Jeanne Bishop's house

Friday, January 28

7:45 -- Depart Hilton Garden Inn for short ride to NASA Glenn—Meet in Hotel Lobby

8:00 -- Continental breakfast at the NASA Glenn Research Center near the meeting room.

8:30 -- 9:00: Review and highlight ideas to be developed

9:00 -- 11:00: Groups develop ideas and prepare to present

11:00 -- 12:00: Groups each present their ideas and solicit help from others regarding what is needed to develop the ideas further

12:00 -- 1:00: Lunch break working in groups

1:00 -- 2:00: Groups put ideas into document form

2:00 -- 2:45: Final discussion and vote, evaluation and wrap up

3:00 -- 4:45: Tour of NASA Glenn Research Center

5:00: Adjourn

Describe the approach that was used to accomplish the goals and objectives of your focus group:

· We Invited people from a balanced range of experiences and locations. We also kept an eye on ability for creative thinking wherever possible.

· Used a co-facilitation model with a process person and a content person. The process person worked from an organizational development perspective. This person is trained in both focus group moderating and facilitation of group idea generation. The content person worked from strong knowledge of participants—from both NASA and the planetarium community—and is experienced in group work. Similar input given by all members of the project team.

· Asked participants to complete pre-group work about needs and experiences that allowed us to develop a list of challenges that could be used in a first round of brainstorming solutions.

· Blended limited presentation to the large group with small-group tasks and work. Ensured that each small group had a project-team facilitator who had well-defined tasks and outcomes for the small-groups. All facilitators collaborated during and after each day of the Focus Group.

· Elicited ideas from all participants through written forms of brainstorming & evaluation (self-stick notes, ratings, etc.)

· Utilized elements of a 3-part problem solving model* in which one is 1) either understanding the problem or opportunity (data sharing about NASA and planetariums, generating the challenge statements) or 2) generating possible solutions (brainstorming and selecting most promising ideas) or 3) setting priorities and building action plans (evaluation matrix with criteria; strategy development; identifying "positives, potentials and concerns"

· Identified and used guidelines for divergent and convergent thinking for the group.

· Solicited final ratings from the participants after potential re-shaping of the ideas were discussed.

Submit captioned photographs (with permission), anecdotes, and anything else you would like to send in that we can use on the NASA Portal.

· Website home page: http://www.transitofvenus.org/focus.htm

· Ideas generated by focus group: http://www.transitofvenus.org/focusgroup/post-focus.htm

· Photographs: http://www.transitofvenus.org/focusgroup/photos-table.htm.

Appendices: (in separate word documents)

1) Things to Remember About NASA and Planetariums

2) Details on all seven strategies: