To commemorate the June 8, 2004, transit of Venus,
Glance Eyewear Gallery in South Bend, Indiana, hosted the
Transit of Venus Art Exhibit.
Show Location: Glance Eyewear Gallery, 1639 N. Ironwood Drive, Suite 2, South Bend, IN 46635
Phone: 574-271-1000

Dates: May 9 through June 30, 2004

Hours: Monday, Wednesday, and Friday, 9:00 a.m. to 5:00 p.m. EST;
Tuesday and Thursday, 9:00 a.m. to 7:00 p.m. EST
(Click for larger view)







(Note: Not all gallery space is shown.)
From the
Artists Reception...

binder001
borden002
couple 003
crowd006
crowd009
lenore005
poster005
wali007

crowd008
This exhibit was open to artists working in any media. The theme related to the celestial event on June 8 in which the planet Venus glided across the face of the sun. The previous transit of Venus occurred in 1882. The 2004 transit was marked by planetarium programs, community observing, music performances, and other events locally and internationally.
| | |
| --- | --- |
| | Artists were invited to create works about Venus, the sun, relevant mythology, the search for habitable planets, the view of the transit itself—subjects that address our attempts to understand our place in space as they relate to the transit of Venus. The exhibit included The Sun as Art, a series of dramatic photos of the sun on loan from NASA Goddard Space Flight Center. |
ARTIST
MEDIA
TITLE OF ARTWORK
Cathy McCormick
pastel
Dancing Venus
Fritz Olsen
sculpture
Transit of Venus
William "Bill" Jensen
pastel
Venus From Hubble Telescope
Dayle Brown
watercolor
Quetzacoatl: Aztec Venus
Anne Binder
calligraphy, oil
Posterity of Venus
Ruth Tuholski
fabric
Transit of Venus: Satellite View
Zeus' Other Realm
Mary Beth DiGann
pastel
Maat Mons
Leah Kelly Schrock
In The Beginning
Cindy Tachman
markers
Venus Bowing to the Sun
Dan Vogl
mixed
Or-bits
Miriam Wittkopf
watercolor
Galaxies
Wali Neil
oil
Transit of Venus
Marie Arch
pastel
Ring Galaxy- Constellation Dorado
James Borden
Tina Davis
beads (necklace)
Todd Davis
plaster
Norma Helen
oil
Bradford Hansen Smith
paper plates
Twin Planets
Venus Passing
Nancy P. Hendrix
acrylic and pastel
Planets
Nick Kulp
Jeremiah's Window
Tamara Lewis
Mary Lou C. Lonergan
pastel
Third Millennium: Eclipse by Venus
Mood Indigo: Venusian Spirit
Mackenzie Korth
Don Tuttle
fabric
Transit Time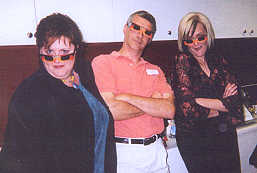 Many thanks to Lenore and Jennifer! Image courtesy of Ruth Tuholski.
The following items are located at art-entry.htm:
Call for Entries Details about delivering, exhibiting, and selling your transit of Venus art.
Invitation to Artists A letter from Chuck Bueter introducing the transit of Venus to the art community.
Entry Form Artist's contact information and description of your art.

Contact: Cathy McCormick, cathy@transitofvenus.org